Seven years from that.
It took a picture of "SAKURA-Cherry blossoms-" again with the high-definition television. And, it keeps repainting the record of the environmental image field.
Genius. One DVD that exceeds time of image.

"SAKURA reprise"
(Cherry blossoms reprise)
Sales Agency:PONY CANYON
PCBG-10685



Old scenery and cherry blossoms in Japan that still remains.
The country of cherry blossoms especially chosen though the world is wide.
Please enjoy "Mind of Japan" of cherry blossoms as much as one likes.

"SAKURA nostalgia"
(Cherry blossoms nostalgia)
Sales Agency:PONY CANYON
PCBG-10686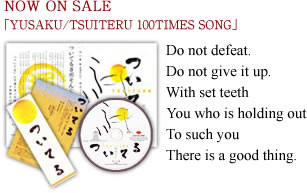 TSUITERU(Luck)


TUIOTERU - Luck -

(Instrumental Version)